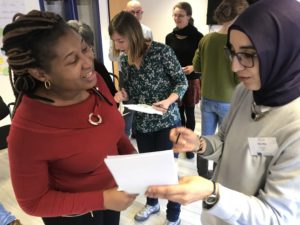 The VIM training offers small training units called simply "activities" as these shall be interactive and shall involve migrants and refugees in all kind of playful, discovery oriented and holistic activities. These  are clustered into the following main categories:
Different conceptions of health, illness and cure based on culture and religion
Mental well-being
Physical well-being
Access to the new health services – obstacles and problems
Sex/sexuality, pregnancy and childbirth
Communication
Each of the six categories provides approx. ten different activities – these vary in terms of their duration, group of learners, equipment needed. They all have in common that they can be implemented in all kind of adult education courses by educators that are not health experts.