Do you represent a European organisation that promotes health education for migrants? Let your stakeholders know about it and use the VIM Quality Badge!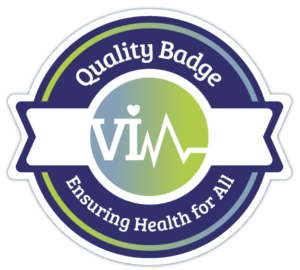 What is the VIM Quality Badge?
The VIM Quality Badge is a tangible label designed to convey the engagement of adult educators and training providers that have embedded health prevention and health education elements in training courses with migrants in line with the VIM approach.
The Badge shows your commitment to improve the overall health awareness and health care competences of migrants who participate in your organisations courses and trainings.
Five good reasons to get the VIM Quality Badge:
Organisations that support migrants' health education can easily be recognised;
Show other people of your community what your organisation's values are;
Get in touch with new European organisations working with refugees and migrants;
Promote a positive image of integration;
Enrich your competences!
 How to get the VIM Quality Badge?
The VIM Quality Badge shall be awarded to those organisations that can demonstrate they meet some or all of the following criteria:
Adaptation of the VIM approach: to embed health related issues in adult education training offers for migrants as a mean to promote better health, integration and social inclusion.
Validating adult educators competence developments to successfully facilitate health education.
The VIM Badge will be awarded through a validated self-assessment process in which organisations present a clear case for how they meet these criteria.
Please use the submission form to apply for the VIM Quality Badge.